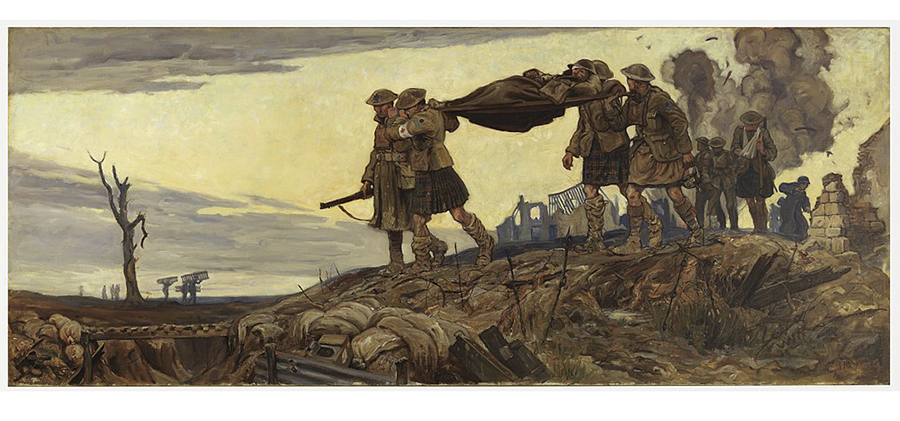 'The Stretcher-bearer Party', painted in 1917 -18 shows soldiers of Barraud's own regiment.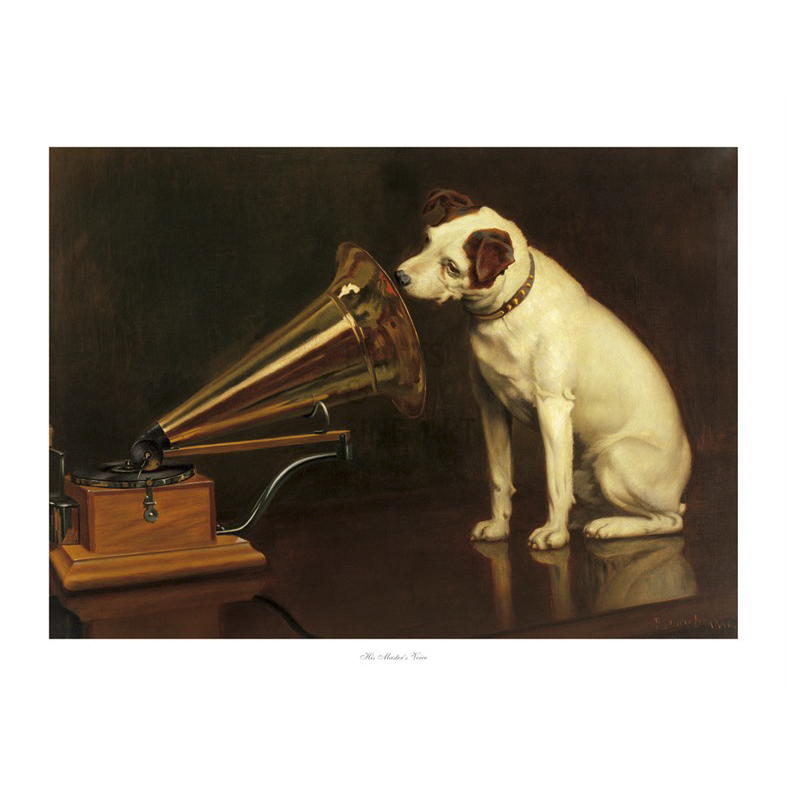 Cyril Henry Barraud, was born at Barnes, Surrey on 9 July 1877. Educated at Downside School, where he won a drawing prize in 1890, and at Brighton School of Art before taking over the running of his late father's photographic business in Piccadilly, Central London. He was close to his uncle Francis Barraud and helped him with the final version of 'His Master's Voice' – the painting used on HMV records.
Cyril emigrated to Canada arriving in Manitoba in 1913 and became a leading figure in the Winnipeg arts community serving as President of the Manitoba Society of Artists and Craftsmen and in 1915 was a founder of the Winnipeg Art Club.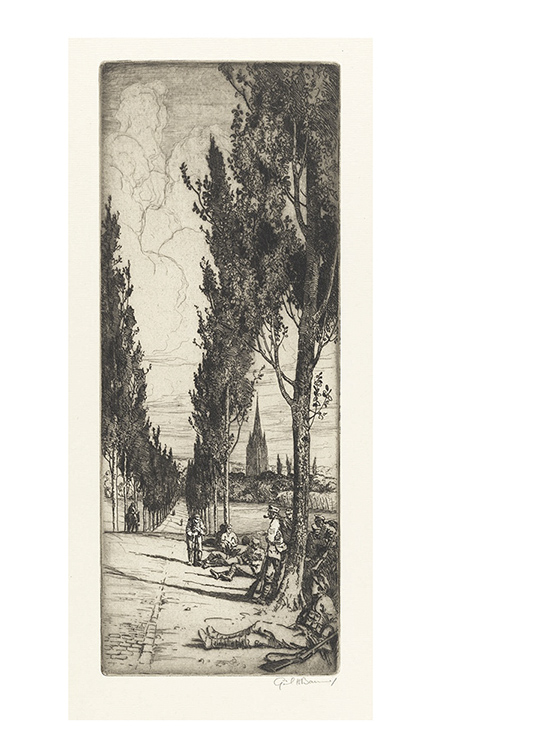 In May 1915 Barraud enlisted in the Winnipeg Grenadiers, serving with the 43rd Battalion of the Canadian Expeditionary Force – the Queen's own Cameron Highlanders of Canada.  He was wounded in the left leg in October 1916 but he was back at the front before Christmas that year. Almost a year later in November 1917 he was posted to the Canadian War Office as an official war artist but long before this Barraud had been sketching scenes along the front. Some of these works are the only depictions we have of the buildings that existed prior to the destruction of war. Barraud filled seven sketchbooks, completing more than 300 images and remained in the army after the armistice, working some of these drawings into etchings. In August 1919 he resigned his commission and in the same year some of his work formed part of the Canadian War Memorials Exhibition held in London. He seems then to have returned to Canada but in the 1920s came back to England for good and eventually settled in Coggeshall where he remained for the rest of his life.
Cyril Barraud; The Road to Steenvoorde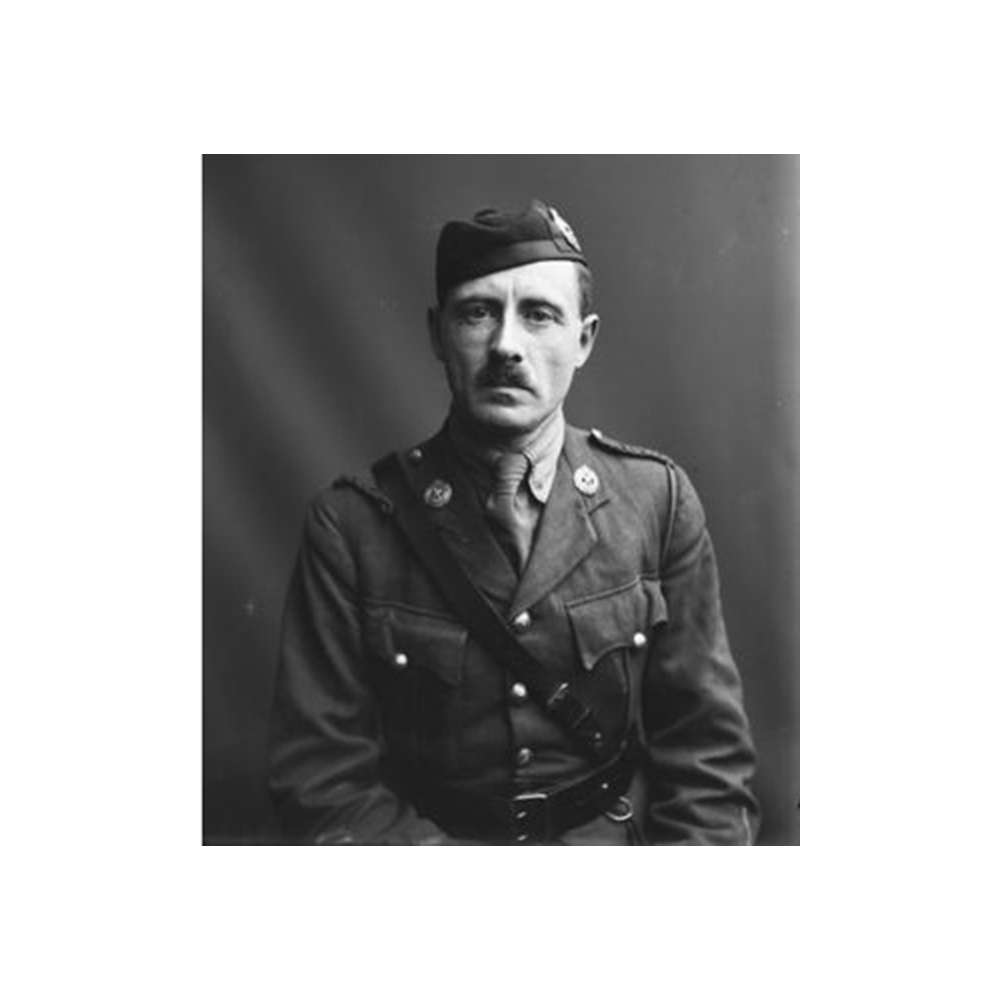 Barraud's favourite medium was undoubtedly etching but he also worked with dry-point, oils and watercolours. He was a regular exhibitor at the Royal Academy between 1912 and 1924 and received commissions, recording industrial scenes, aircraft and topographical views used in LNER Railway carriages. He was a member of the Ipswich Art Club 1948-1949 and also exhibited from his home, Royal Oak Cottage, on Stoneham Street, once the Royal Oak Inn opposite the old school. He produced many etchings of Coggeshall scenes including views of Market Hill, the Woolpack, Cockerills on Church Street, the river bridge and Bridge Street and several interiors of Paycockes.
Cyril Barraud died in 1965 and has a monument in the Church.
Left; Haunted – Lieutenant Cyril Henry Barraud in 1919 when he left the army.
Below; Some of the work he produced as a war artist in WW1 recording the scene around Ypres.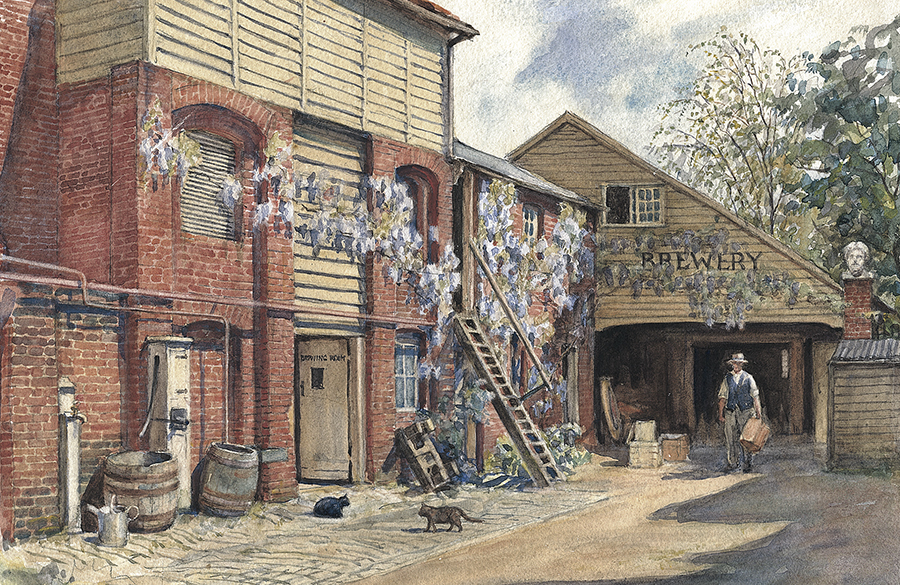 The old brewery Bridge Street, 1955