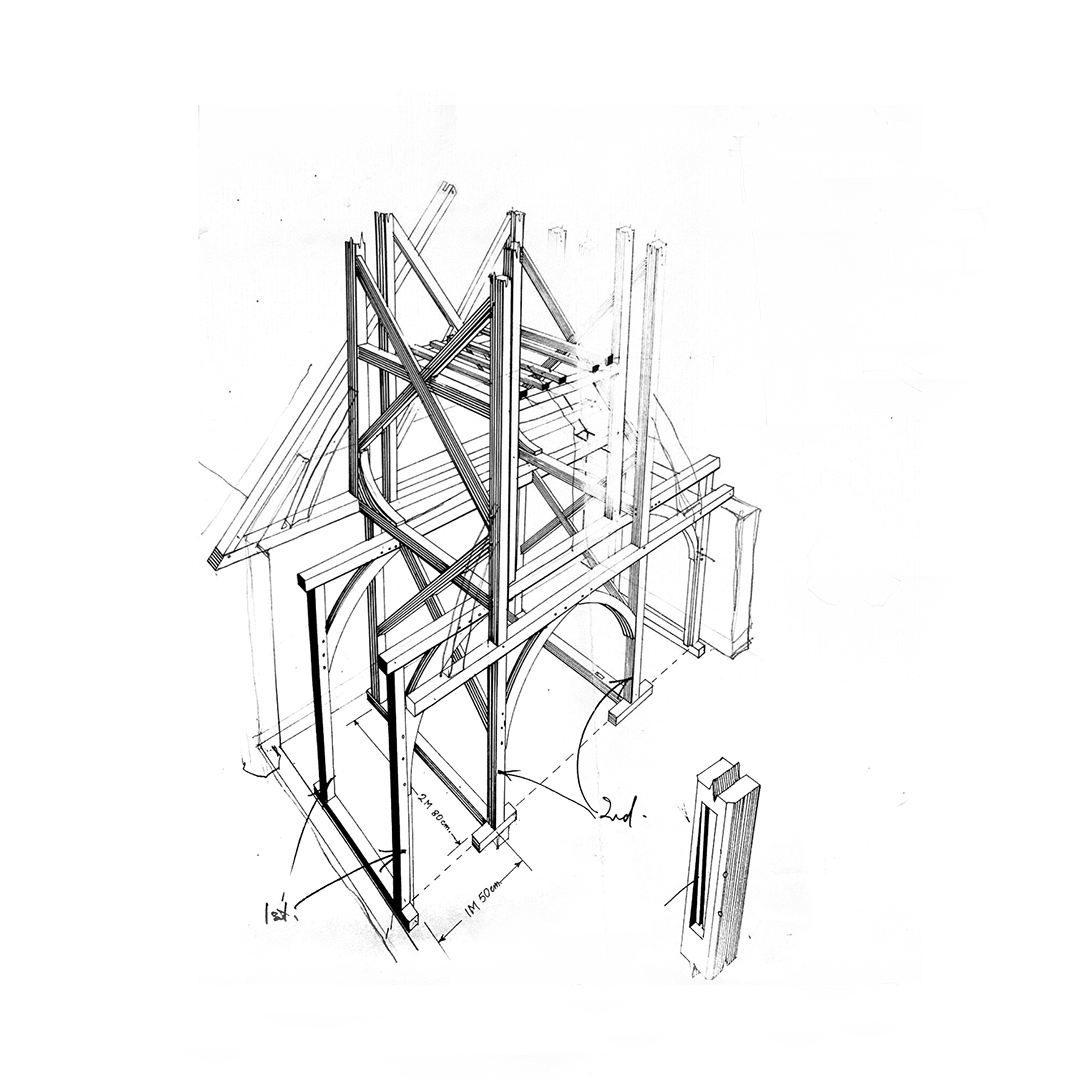 Cecil Hewett moved to Coggeshall in the late 1960s and was a familiar sight around the town and occasionally in the Woolpack. It was during his time in Coggeshall that he became famous through his knowledge of historic carpentry. It was his understanding of the development and dating of jointing in timber buildings that pushed the date of the Grange Barn from the generally accepted 15th century to the then revolutionary 12th century – a date which was later confirmed by carbon dating and dendrochronology.
Left; One of Hewett's trademark isometric drawings of the Belfry of West Bergholt church
Cecil Hewett 1926 – 1998
Cecil's artistic flair showed from a young age and he was regarded as an art prodigy. By the time he was eight years old he was very competent with sharp edge carpentry tools and was making superb models of wooden farm machinery.
His attention turned from farm buildings, to church buildings and by the time he was twelve he was convinced that conventional dating of timber–framed buildings was largely wrong. It was this early appreciation of timber-framed buildings and experience of acquiring knowledge first-hand that set the pattern for his research. His initial interest came from his father who was a woodworker by trade and by walking and cycling around Essex from his childhood home at Laindon.
After leaving college he began his working life as a designer in an advertising office. In 1944 he was called up to do his National Service and one of the tests he had to take was to reassemble a Yale lock, he was the only one of his group who achieved the task. He was shipped off to Egypt where he spent the next four years. On returning he went back to Chelmsford School of Art and then onto the University College, Swansea, qualifying five years later as a silversmith. He then took up teaching in nine Essex Schools for the next nineteen years.
Teaching was not really the job he wanted to do but it did allow him spare time to do his own private research and eventually it was his interest in carpentry and the dating of old timber buildings that changed his life. He started to write and publish articles on carpentry from his own observations, bringing invitations to give lectures at various locations including the Institute of Archaeology in London.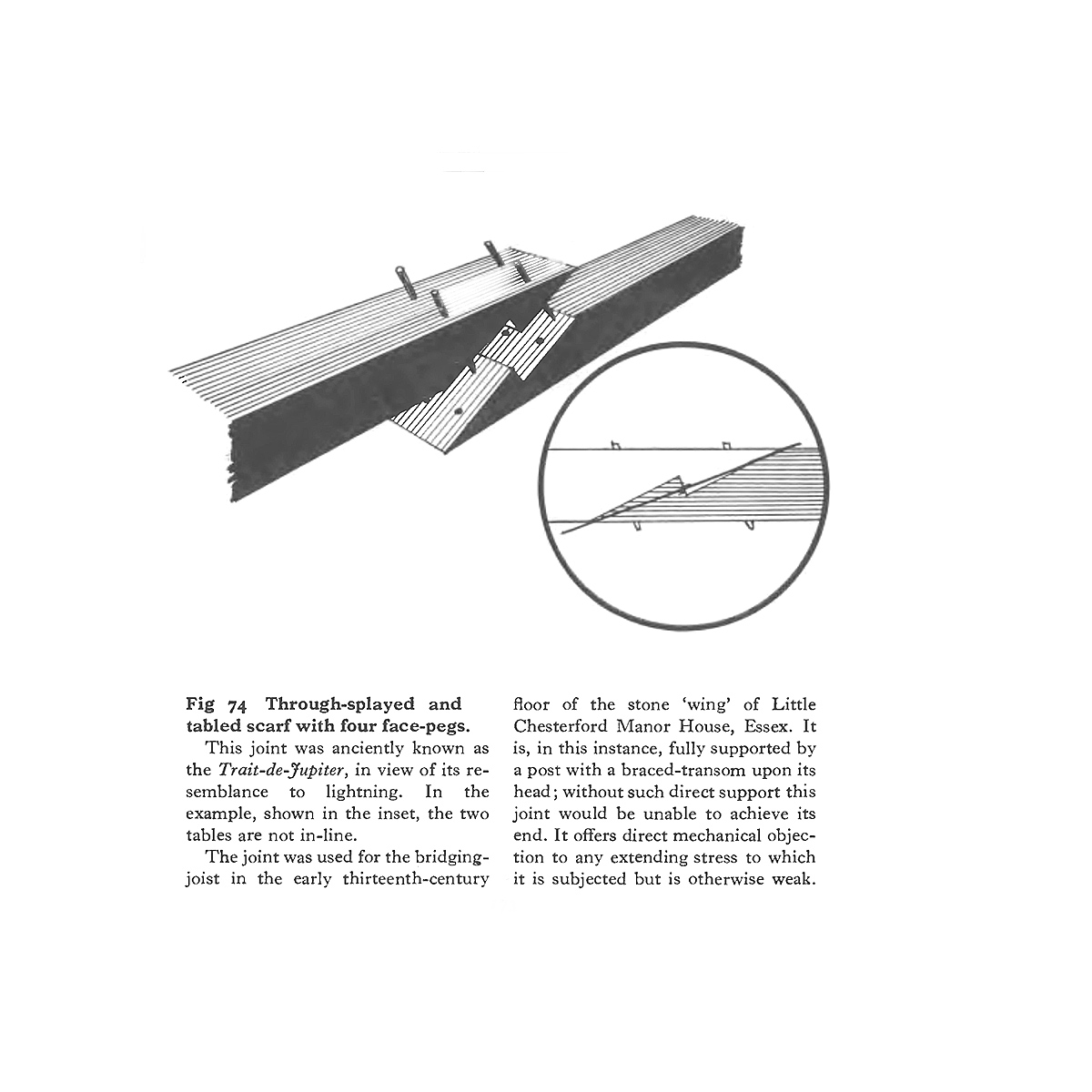 Hewett's  approach was to study the work of carpenters of the past, their methods, especially the evolution of the joints used and the use of sharp edged tools and he established a strict dateable sequence of joints and techniques. He investigated the Cressing Temple barns and the dates he proposed for these and other buildings did not go with some of the experts and indeed proved to be something of a bombshell among the historical and architectural fraternity. For a number of years, researchers were split over his work but gradually his ideas have gained acceptance, especially with the coming of the more precise scientific technique of tree-ring dating.
Right; An illustration from Cecil Hewett's landmark study, 'The Development Of Carpentry, 1200-1700: An Essex Study', Newton Abbot, England: David & Charles, 19
69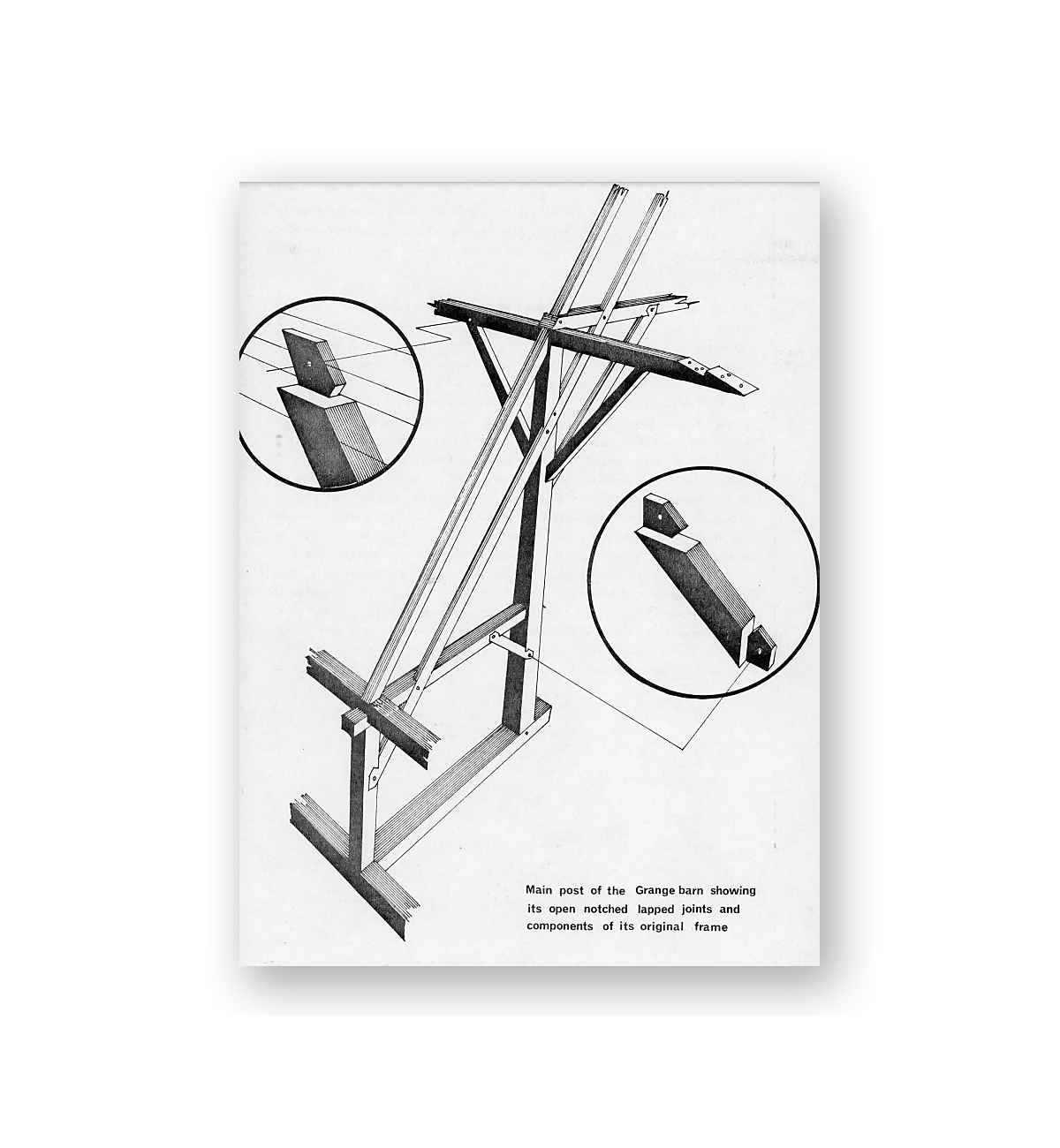 Cecil impressed many people with his enthusiasm and knowledge and was approached by the Greater London Council  in 1972 who offered him position with the Greater London Council Historic Building Division. His reputation was growing and in 1974 he moved to the Essex Council's Historic Building and Conservation Section at Chelmsford as senior officer.
If it was made out of wood Cecil investigated it and wrote about it and because of his artistic skills he was able to make superb sketches of the objects and from these built wonderful wooden replicas. In his spare time and possibly for relaxation he painted – usually trees.
He liked to smoke a pipe and it no doubt helped him concentrate on his work, he was also interested in poetry and would often quote lines of poetry in discussions. Classical music, reading and watching Shakespeare's plays were also high on his agenda.
Left; Illustration from Hewett's report on the Grange Barn
His book 'Church Carpentry' published in 1974, is a study based on Essex examples but the new ideas reached Germany, Scandinavia and especially the United States where Hewett was, and is, greatly admired. His numerous publications have reached a wide audience, and he contributed to several television programmes, notably 'In Search of the Master Carpenters', with Rene Cutforth.
As well as making models he made at least eight harpsichords – which if he could not play his wife could. He made scale models of the buildings destroyed by the great Fire of London 1666. He also confirmed that the long bow used by the English against the French during the 100 years war was made of Laburnum and not yew – this was used later when laburnum was in short supply.
It was in 1980 that Cecil published one of his major works, English Historic Carpentry but not long afterwards he suffered a severe stroke, which left him unable to communicate but it did not affect his memory. Against all the odds he gradually regained all his faculties; he had always believed that one should work like a 'tightly stretched string' in order to extract the most from one's mind. It might well have been this attitude that brought on his stroke and his final illness. The stroke forced him to retire, although he did make an effort to return to work. Retirement gave him the opportunity to publish yet another book 'English Cathedral and Monastic Carpentry' (1985).
Written by Ken Porter in 2011