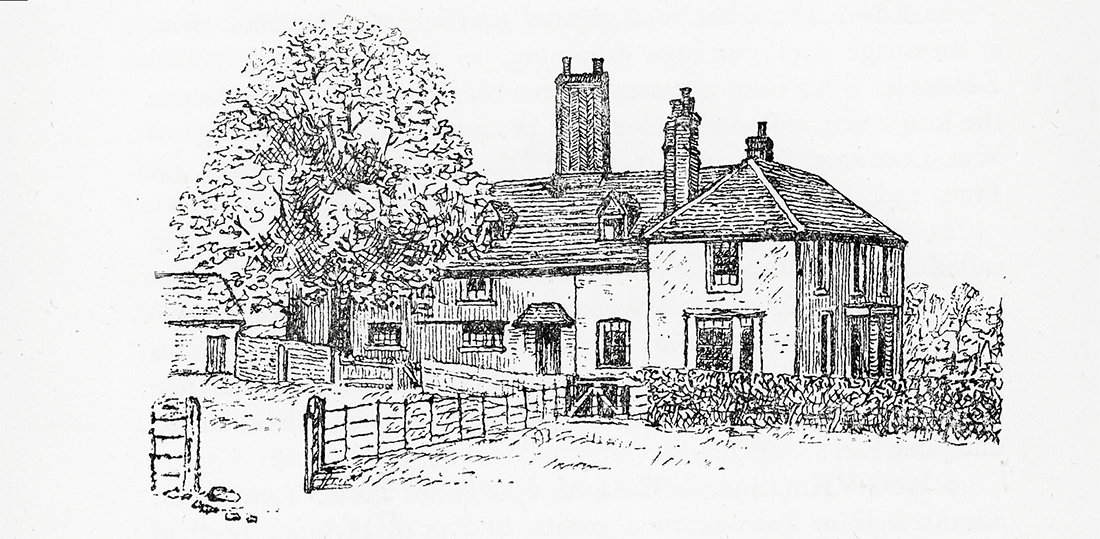 The Manor of Coggeshall Hall
The details given here are taken from G. F. Beaumont's History of Coggeshall, published in 1890. It appears that the family bearing the name were not actually living in Coggeshall after the late 14th century, although they still owned land in Essex and the surrounding counties.
John Coggeshall Sr. (2 December 1599 – 27 November 1647) was one of the founders of the Colony of Rhode Island and the Coggeshall family still have a significant presence in the  USA.
The arms of the Coggeshall family are described as Argent; a cross between four escallops sable.
The arms are decidedly typical of pilgrimage, one of the emblems of which is the escallop shell, and another the cross. Thinking back to the days of Richard I, one may picture an early knight of this family at the Crusades clad in his coat of mail, bearing a cross on his breast and shield. [Then again, they may simply be Cockle-shells – making a play on the family name!]
The family does not appear to have had a crest until John Coggeshall, of Fornham, St. Genovese, Suffolk, procured in 1576, the right to bear " Upon the helme on a wreath argent, a buck couchant sable horned and cleved or., mantled gu., dubled silver ".
The following, according to Beaumont, is the pedigree of the early members of this family:—
1. Sir Thomas Coggeshall, of Coggeshall, Knight, was living in 1149 in the reign of King Stephen and had a son(2)
2. Sir Thomas Coggeshall, also of Coggeshall, Knight, who was living 1194. He had issue Sir Ralph (3) and Sir Roger.
3. Sir Ralph de Coggeshall, of Codham Hall, Wethersfield, Knight, was living in 1233 and died in 1305. He and his wife, Elizabeth, had issue:
4. John de Coggeshall, who died in 1296, leaving son John (5) in addition to a son from whom descended the Coggeshalls of Hundon and Fornham, in Suffolk.
5. Sir John de Coggeshall, of Coggeshall, Knight, who was living in 1302, and married Sara, daughter of Jordan le Brun, Knight. Sir John died in 1319, leaving:
6. Sir John de Coggeshall, Lord of Coggeshall, who was born in 1301 and was knighted in 1337. He was High Sheriff of Essex for several years and married Mary (? Margery), daughter and heiress of Henry (? Humphrey) de Stanton of Essex. She died in 1342. He died in 1361. He had issue John, Sir Henry(7) and Thomas.
Follow this link for more about John de Coggeshall: A 14th Century Knight
7. Sir Henry Coggeshall, Knight, was born in 1331, died in 1375 and was buried at Coggeshall. He married Joane, (daughter and heiress of William de Welles of Exning) who died 1375. They had issue Sir William(8) and Thomas of Sandon. Thomas died in 1422, having had one son and one daughter. His heir, Richard, was born in 1409 and died without children in 1432. Elizabeth, Thomas' daughter married Thomas Philip.
8. Sir William de Coggeshall, of Codham Hall, Wethersfield, Knight, was born in 1357 and died 1424. He was High Sheriff in 1391 and he married Antiochia, daughter and heiress of Sir John Hawkwood, Knight, of Sible Hedingham, Essex. Her second husband was Sir John Tyrrell, Knight, of East Horndon, Essex. This Sir William Coggeshall held considerable estates in Essex, which for want of male heirs were divided amongst the daughters. He was living at Coggeshall in 1419. Sir William and his wife Antiochia, had no sons but four daughters: —
Blanch, who married John Doreward, Esq., of Bocking. (They became owners of Coggeshall Hall on death of William de Coggeshall. Their descendants had Coggeshall Hall for several generations)
Eleanor(? Alice), who married Sir John Tyrell, of Herons, Knight.
Margaret, who married, first, William Bateman, Esq. of Little Samford, and, secondly, John Roppeley, Esq.
Maud, who married, first, Robert Dacres, Esq.and, secondly, John St. George.
It can be seen that members of the Coggeshall family were spread out over Essex, Suffolk and Norfolk, and although the Coggeshall family descendants through the female line were at Coggeshall Manor, the family name of Coggeshall actually ceased to exist in the Coggeshall locality.The Manor of Coggeshall Hall was for several generations one of the possessions of this family, and it is probable that it was their principal seat. There were also branches of the family settled at Boreham and Sandon.
John de Coggeshall: A 14th Century Knight
From text by Bob Coggeshall
Sir John de Coggeshall (1301-1361) was one of the most active knights of his time in the county of Essex, and also one of the wealthiest. The estates of the Coggeshall family were in great part accumulated by Ralph de Coggeshall, John's grandfather, who died in 1305. Ralph's greatest acquisition was Great Codham Hall, Wethersfield, which served as the main family residence. Other principal family estates in Essex included Sheering Hall in Shalford, Coggeshall Hall in Little Coggeshall, Duddenhoe in Wendon Lofts, as well as holdings in Paglesham, Rugwood, and North Benfleet.
John de Coggeshall's wealth provided the foundation for his involvement in politics, war, and Essex affairs. In 1320 he accompanied a party on the king's service to the papal court at Avignon. He served Edward II militarily in the 1320's. In July, 1322, John was summoned to perform military service against the Scots. The performance of war service by knights was an important part of their duties along with their responsibilities in county government.
John embarked on his career in Essex affairs when he was in his early thirties. His most important Crown appointments were those of Sheriff and Escheator(a person who dealt with property lapsing to the Crown), but he also served as a Knight of the Shire in Parliament, as a justice, and on numerous local commissions from the 1330s until his death in 1361. He was more extensively involved in county work than other Essex knights, a strong indication of the extent to which the Crown relied on him. He was first appointed Sheriff in November, 1334, and held that office for five years. He again served as Sheriff between May, 1340, and January, 1341, between November, 1343, and May, 1348, and between November, 1352, and November, 1354. Such long tenures of the office were unusual and were contrary to the statute of 1340 which stipulated that the Sheriff was to hold the office for a year only.
The office of Sheriff was one of power and prestige. As Sheriff, John presided over the County Court, and received and carried out the orders of the Crown on a wide variety of matters. After a visitation by Royal Justices, he was responsible for carrying out their sentences and making a return of fines and chattels of felons and fugitives to the Crown. As Escheator, he was responsible for the lands of tenants-in-chief of the Crown which came into the king's hands by reason of minorities, failure of heirs, or forfeiture. He took the estates in the King's hands, and accounted for the revenues until ordered to hand them over to the heir or to someone else.
In addition to serving as Sheriff and Escheator, John de Coggeshall also served as a Knight of the Shire in Parliament, Justice of the Peace, and on numerous administrative commissions. While some of these commissions were only of local importance such as supervising the repair of walls, causeways, and bridges, others took on much greater importance. He was called upon many times to help in the war effort of King Edward III's Scottish and French campaigns. In 1335 he was called upon to conscript 200 archers in the county of Essex for the Scottish war. He was involved with the defence of the English coastline during Edward III's Crécy and Calais campaign in 1346-7. Much of his administrative duties concerned revenues due the Crown. In 1349 he inquired into money which had been raised to pay archers, but had never been sent to the king at Calais. In 1353, 1354, and 1357, he was investigating cases of non-payment of the customs duties on wool; and in 1358 a case of fraud involving the cloth subsidy.
The provision of food supplies was also vital to the war effort. According to the CALENDAR OF FINE ROLLS, 1347-56, John, in 1355, was one of those called upon by the Crown to gather 200 pigs, 60 weys of cheese, 40 carcases of beef, etc., which were to be sent to Calais to feed the soldiers. His account shows that although he delivered 213 pigs, all the other provisions were below those specified by the king, and no cheese was delivered at all.
John served as Justice of the Peace on two commissions, in 1351, and again in 1356. The commission of 1351 is especially notable in that it allowed the justices to determine as well as hear cases of felony and trespass. It also gave them the right to enforce the Ordinance and Statute of Labourers, designed to enforce a wage and price freeze during the Black Death of 1348-9. The Crown had been reluctant to allow the justices the right to determine felonies and trespasses, but this power became vested in the justices after 1368.
John de Coggeshall served in Parliament as one of the two Knights of the Shire for Essex. He was a member of the parliaments of 1334, 1335, 1336, 1339, 1343, and 1358. The expense of the Scottish and French wars made the Crown increasingly dependent on the House of Commons in Parliament for grants of taxation, while knights found Parliament a useful forum for airing local grievances and gaining concessions from the Crown.
John's oldest son, also named John, fought in Edward Ill's retinue at the Battle of Crecy in 1346, and was killed at the subsequent siege of Calais. His second son, Henry, married Joan, daughter of William de Welle. His third son, Thomas, served Thomas of Woodstock, the youngest son of Edward III, and achieved prominence in Essex during the reign of Richard II. John's daughter, Elizabeth, married John Bourchier.
John de Coggeshall died in June, 1361, possibly in the second great outbreak of the Black Death. His career sheds light on the wide spectrum of activities of a fourteenth-century knight, as landowner, soldier, Crown official, and Knight of the Shire. He exemplified the growing importance of the knights and gentry in local administration and justice. John de Coggeshall also increased the standing of his family, enabling his sons and grandson to continue to play a prominent role in Essex affairs under Richard II and Henry IV.