In 1795 Joseph Greenwood, a Coggeshall Quaker, left two adjoining parcels of land, part of a close of land called Buttfield alongside Church Lane 'for the purpose of erecting thereon' a number of cottages for the use of the poor.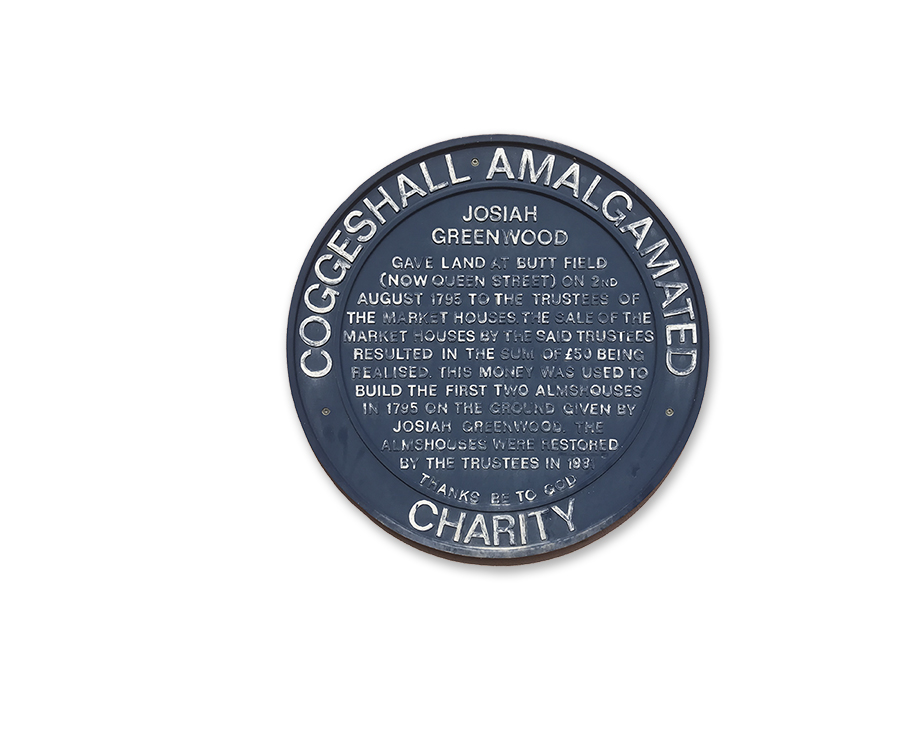 In August that year Greenwood gave one of these parcels to the trustees of the Market Hall or Wordsworth Charity and they built two cottages on the plot at a cost of £50. This charity had its origin when Robert Wordsworth left the Market Hall for the benefit of the poor back in 1588. The Market Hall occupied most of what is now Market Hill but had become ruinous and was demolished in 1758 and the timber and materials sold off. It was some of the proceeds of this sale which paid for the two new cottages.
In December 1795 Greenwood left the other parcel of land in trust for the use of the poor of the parish. Four cottages were subsequently built on this plot and this time, the money came in part from the will of Osgood Hanbury of Holfield Grange, and in part from the sale of the old fever hospital called the Pest House at Tilkey.
In 1887 the Charity Commissioners combined the various Coggeshall charities under the title of the Amalgamated Charities.
In 1897 the almshouses were in need of attention and after a public meeting, an appeal was started. The almshouses were always close to the heart of the community and a remarkable £190 came in – more than enough to carry out the work. A rather moving story was reported in the local papers in September 1911, 'An aged inmate of one the old almshouses in Back-lane, named William Gould, was found dead, kneeling in prayer, by the side of the bed, while the lamp was still burning the table.'
By 1928 the almshouses had become so run down that the Charity Commissioners ordered a survey. This found that £100 was needed to bring the cottages into a fit state and with the total funds available standing at £1 19s 4d once again a public meeting was called to discuss things. This was held in June 1928 in the Lecture Hall of the British School on Queen Street and was packed out. Coggeshall's well loved historian, George Beaumont, had recently died and his widow Amy, in a letter which was read out to the meeting, offered to pay for the cost of the refurbishment as a memorial to her husband – news which was greeted with prolonged applause. The chairman commented that 'nothing would have pleased Mr Beaumont better than being able to do this'. Several other local worthies also contributed and by the meetings end the fund stood at £165. Repairs were soon underway.
A major refurbishment was completed in 1981 and further work has been carried out since. The six Almshouses are still occupied.
In 2021 the assets of the Amalgamated Charities who were responsible for the almshouses were transferred to the Coggeshall Almshouses Charity.
Charity number: 1180363; Details here