HOLLINGTON'S – 'THE STITCHING FACTORY'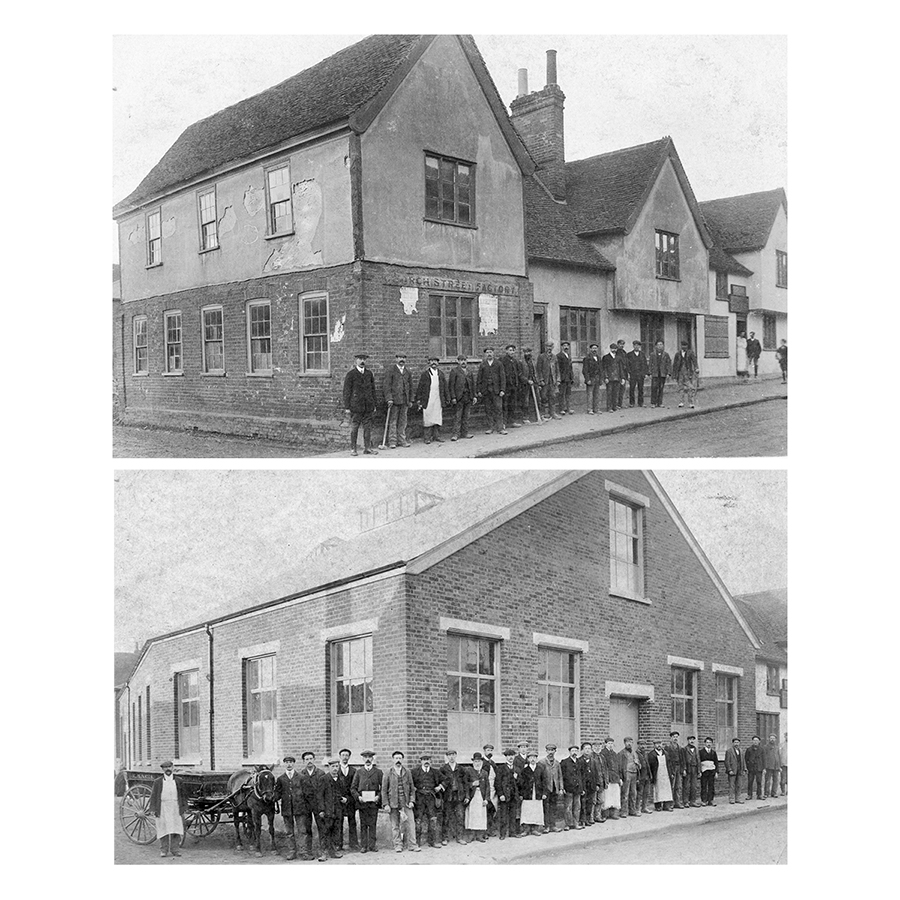 Coggeshall's last link with the cloth trade
In the early 1900s Hollington Brothers moved its manufacturing and wholesale business from London to factories in Colchester and Coggeshall. They took over the old Church Street Factory which had once belonged to Richard White, one of Coggeshall's last weavers. This consisted of a row of ancient cottages converted into a manufactory and warehouse. Hollingtons drew up plans for a new factory on the site. The old houses were demolished by Sach's of Coggeshall who also built the new factory which was light and airy with lofty ceilings and skylights. The huge timbers for the roof supports arrived by train and were transported by horse and cart to Coggeshall.

Html Light Grey background ignore this text it is just to increase the picture size
ignore this text it is just to increase the picture size
ignore this text it is just to increase the picture size
ignore this text it is just to increase the picture size
ignore this text it is just to increase the picture size

The building was then extended further up the street and within a few years the last stage had been completed and instead of timber, the roofs were of iron girder construction. The new buildings were fitted out with machines and presses and cloth was brought in from Worcestershire and Yorkshire where the Hollington family had its roots and they became the biggest employer of women in the area. During the Great War the business of making classic English tailoring for men and boys ceased while production concentrated on making uniforms. In the twenties and thirties pea-picking times would see a drop in the workforce and the foreman would scour the fields hoping to recapture the 'errant' ladies.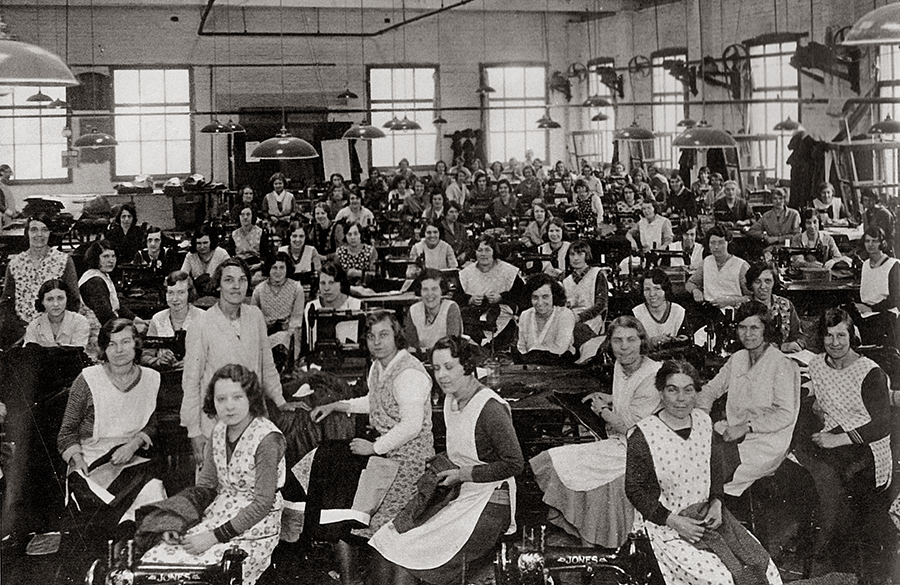 Inside the factory, probably in the early 1930s
In the Second World War uniform making resumed and not infrequently the romantically inclined would slip a note of encouragement into a khaki pocket!
After the War uniforms continued to be made by Hollingtons for London Transport, British Rail and later the Customs and Excise Service – very smart with real gold braid. As these uniforms were made for individually named customs officers it could cause some hilarity when a group of Hollington's lady workers returning from holidays abroad were confronted by a customs official in the very trousers they had made – they would surprise him with a detailed knowledge of his most intimate measurements.
Hollingtons traditional business was with classical English suits and country clothing which was supplied to many London stores and more unusually to Saudi Arabia.
In 1980 Hollingtons Factory Outlet opened in part of the premises, an early experiment in factory shopping. As shopping habits changed the business declined and finally closed in the second decade of the 21st century. The factory currently stands derelict.