THE HONYWOODS OF MARKSHALL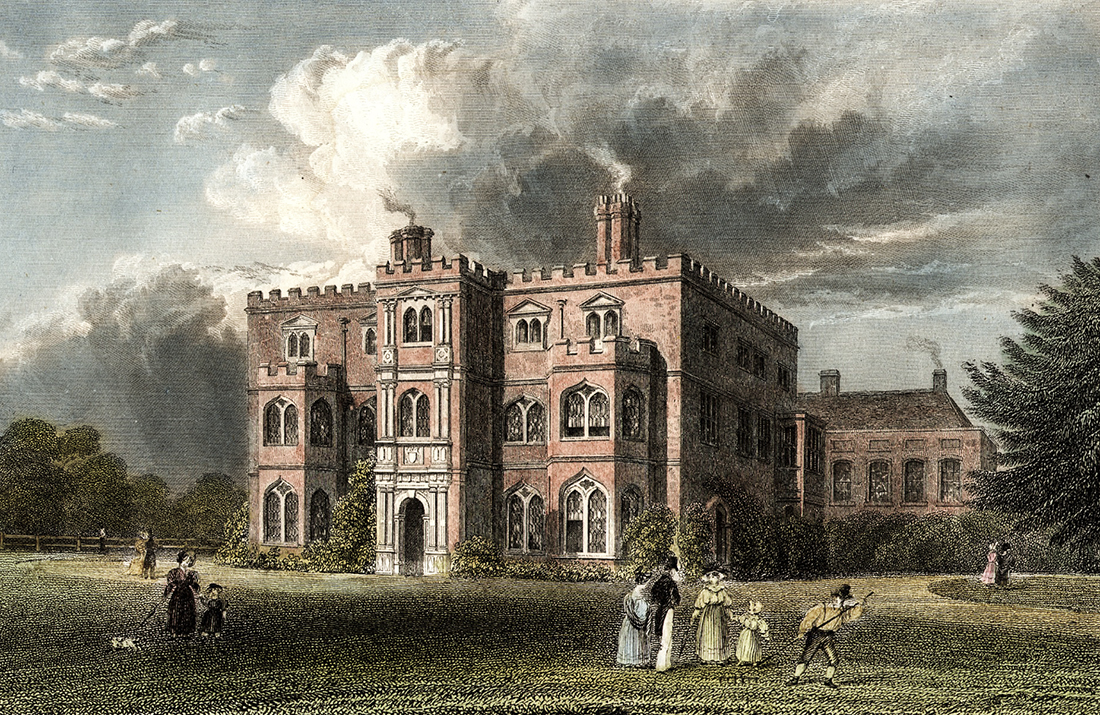 Apart from a short period at the end of the sixteenth century, Marks Hall was in the incumbency of only two families. From around the time of the Domesday Survey until 1562 it was in the hands of the Markshall family and from 1605 until late in the nineteenth century it belonged to the Honywoods.
Robert Honywood I was born in 1545 and lived at the family's ancestral home at Charing, near Maidstone in Kent. He was the eldest of 16 children and inherited this estate upon his father's death in 1576. Robert married twice: by his first marriage he had seven children and by his second he had eight. In 1605 at the age of 60 he bought the Marks Hall estate to provide an ancestral home for his second family. The house was an old timber-framed building and he immediately set about rebuilding it.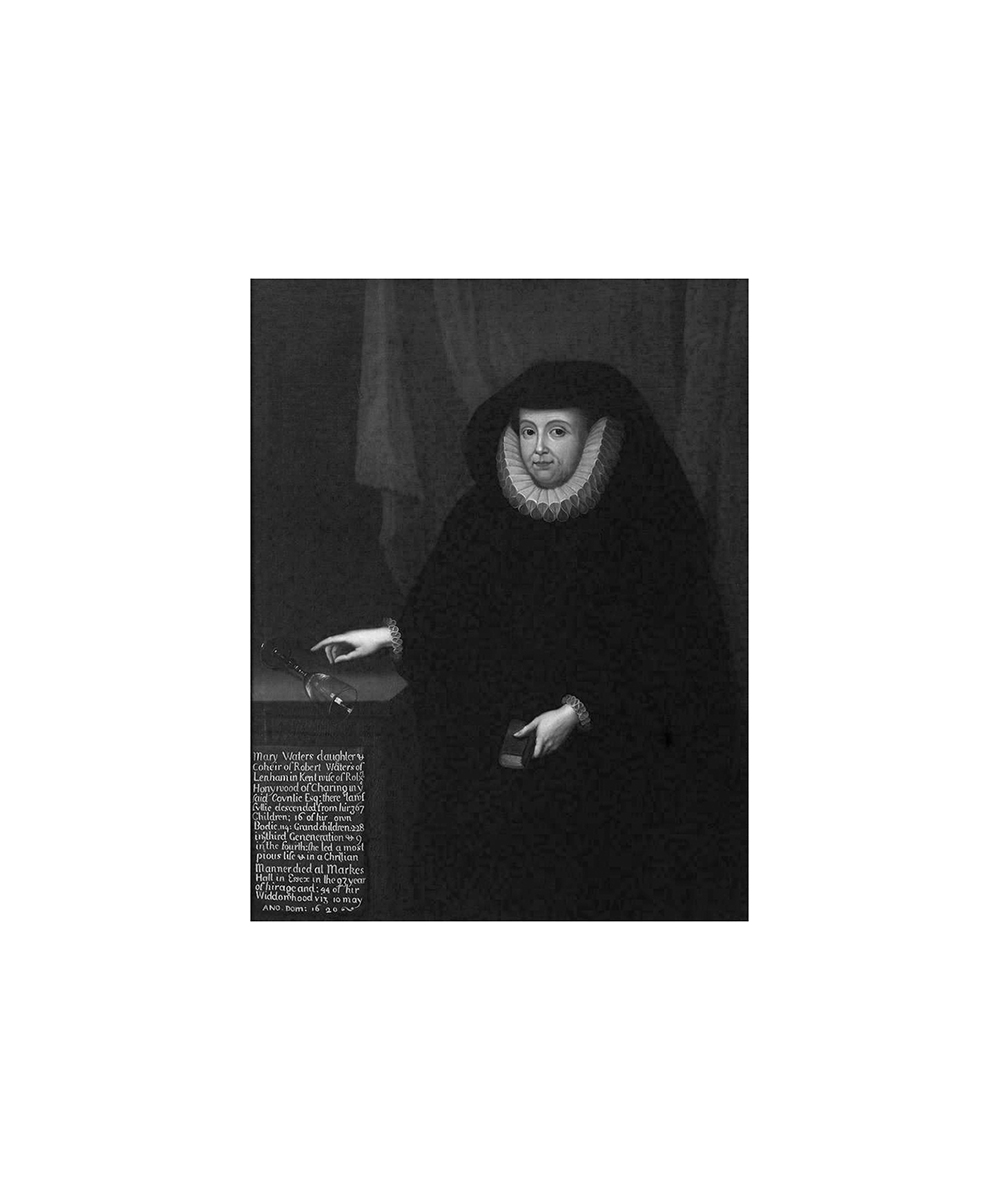 Mary Honywood, born Mary Waters, was Robert's mother and is the subject of Honywood family legend. During the early years of Queen Mary's reign when she was seeking to bring the country back to the Catholic Church, there were many who opposed this and were persecuted. There were others who sympathised with them and took to visiting and comforting them in prison. Mary Honywood was one of those. For a time she was inflicted with deep depression or "religious melancholia" and all attempts by ministers to comfort her proved unsuccessful.
The story then goes that one day, whilst holding a Venetian glass in her hand she exclaimed: "I am surely damned as this glass is broken", whereupon she hurled it violently to the floor and instead of shattering the glass rebounded whole and unscathed. This must have been the turning point for it is recounted: 'that at last God shot comfort like lightning into her soul which once entered ever remained therein so that she led the remainder of her life in spiritual gladness.'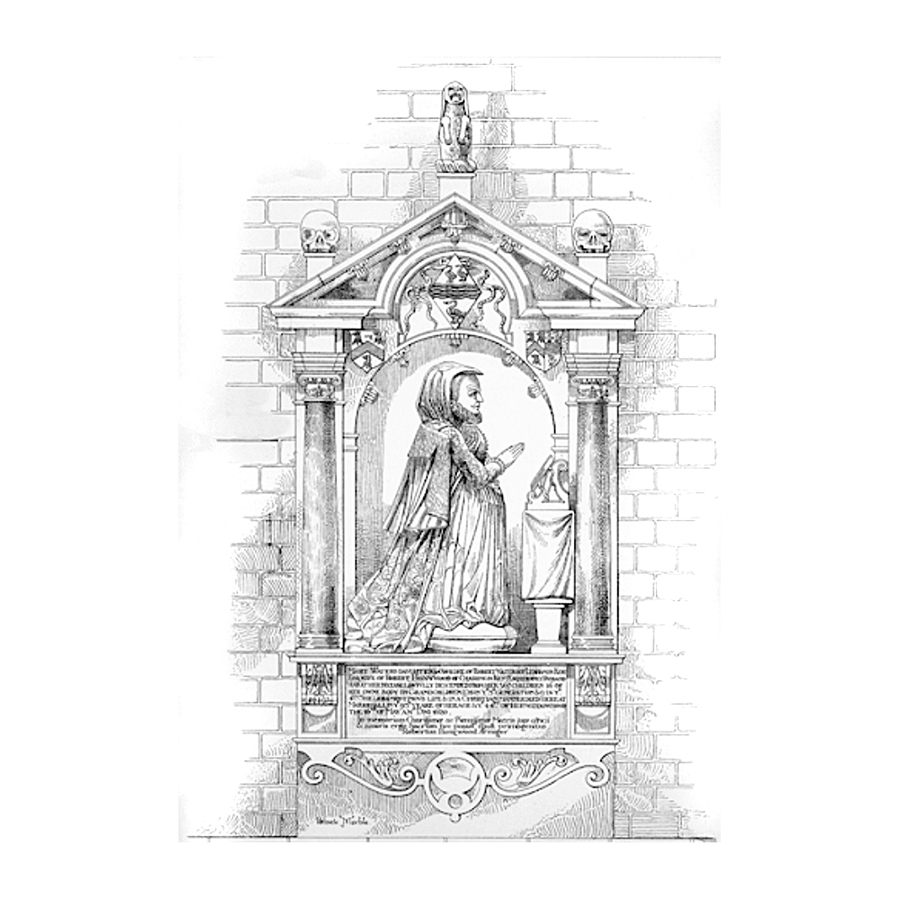 Indeed she must have done, for when she died in May 1620, aged 93, she had lived to see 367 living descendants – 16 children; 114 grandchildren; 228 great grandchildren; and nine great-great grandchildren. Although she spent the last years of her life at Marks Hall, she is buried next to her husband at Lenham in Kent.
Many paintings of her exist usually with either wine glass or prayer book in her hand and one of these can be seen in Colchester Castle Museum. A tablet monument to her was removed from the Marks Hall church of St Margaret before its demolition in 1933 and was re-sited in the Sacristy of the parish church here in Coggeshall.
Sir Thomas Honywood was Robert's eldest son from his second marriage and he inherited Marks Hall from his widowed mother in 1631. Although he was knighted by Charles I the following year, he became a staunch Parliamentarian and in 1648 commanded a body of militia which played a prominent part in the Siege of Colchester. After the surrender of the Royalists to Fairfax, he was left in charge of the town with orders to demolish the walls. In 1651 he became one of the Knights of Shire in Cromwell's parliament. Following the restoration of Charles II he was granted a royal pardon. It is said that the lakes at Marks Hall were dug out by his Roundhead troops whilst stationed there before the Siege of Colchester. Sir Thomas died in 1666, aged 80 and left Marks Hall to his wife for life. She outlived their oldest son who died childless so the estate passed to the second son, John, who also died childless.
Marks Hall then passed to another Robert Honywood, from the branch of the family still living at Charing in Kent. He was a colonel of infantry, Deputy Lieutenant of Essex and an M.P. and was responsible for much modernisation of the house.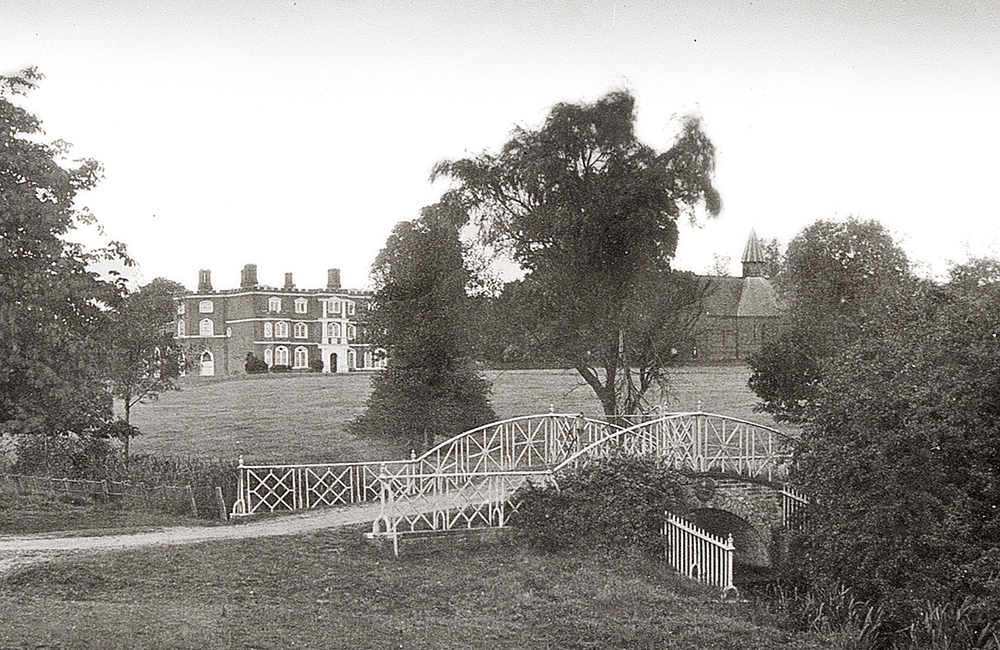 General Sir Philip Honywood became the next incumbent of the property upon his father's death, his two elder brothers having pre-deceased him and is probably the most well known and interesting of all the Honywoods. He entered the army aged 25 and then spent many years of service on the continent. He was promoted to Lieutenant Colonel of the King's Own Regiment of Dragoons and fought at the Battle of Fontenay in 1745. The following year he was wounded by the Scots at Clifton Moor. Apparently he was not wearing his steel skull cap and his life was saved only by the thickness of his giant pigtail. Later on he commanded cavalry during the seven years war before finally being promoted to General in 1760.
He was responsible in 1764 for commissioning a very detailed map of the Marks Hall estate, showing three lakes and for having built a new brick church. Of all the family portraits probably the most famous is the one of General Honywood, painted by Gainsborough, showing him on horseback, in scarlet uniform and with sword drawn. General Philip Honywood died in 1782.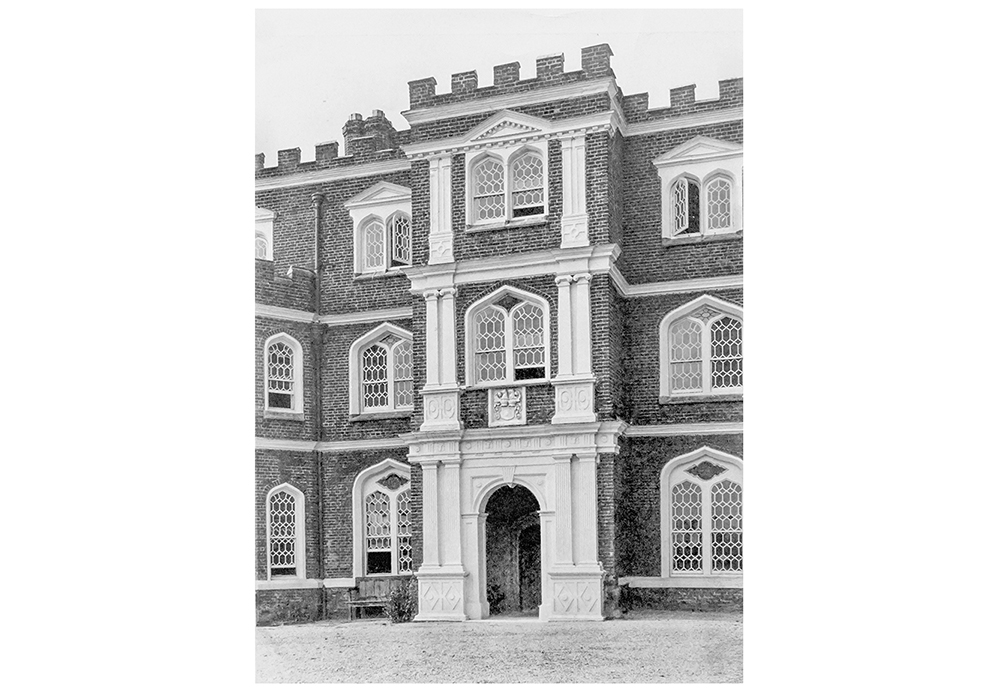 The estate was passed down through succeeding Honywoods until its final male owner, William Philip Honywood who had married Frances Emma Phelips in 1849. They had no children and worried that the estate would pass to his brother Robert who was a notorious gambler with heavy debts, William had a will drawn up to protect the estate and prevent it from falling into Robert's hands. The terms were that the estate would be left in trust to his wife for her lifetime should he pre-decease her.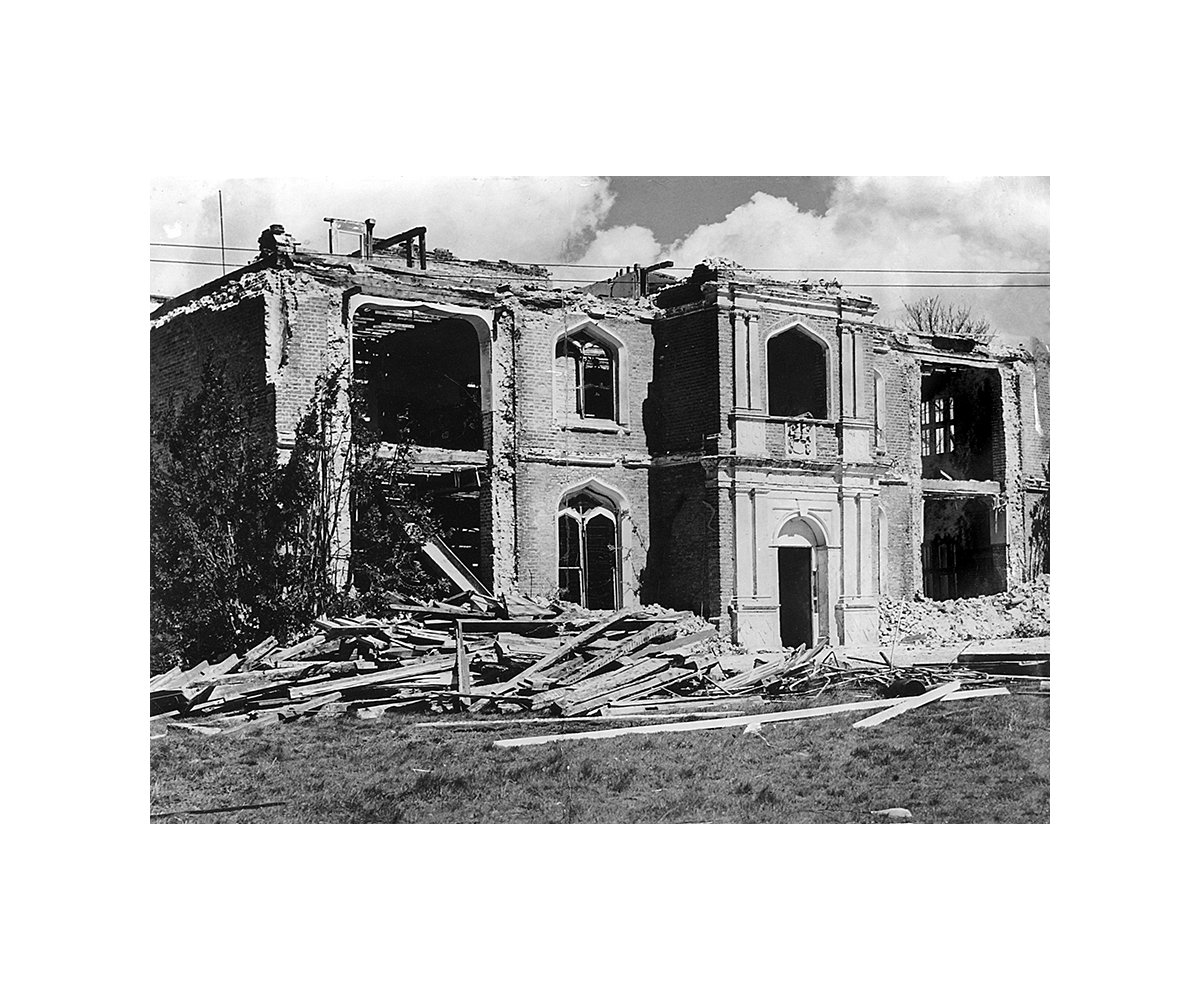 Within a week of the will being drawn up William caught a chill whilst out hunting and died eight days later. Needless to say the will was contested but the terms were upheld after various compromises. Frances never remarried and continued to live at Marks Hall until her death in 1895. During her occupation she was responsible for a comprehensive overhaul and restoration of the church of St Margaret. In 1897 the whole of the estate was put up for auction and sold to offset heavy debt, much of it incurred after legal costs when William's will was contested. So on this tragic note ended 290 years of Honywood family occupation at Marks Hall. Almost unbelievably just over fifty years later the house was demolished and today nothing of it remains.