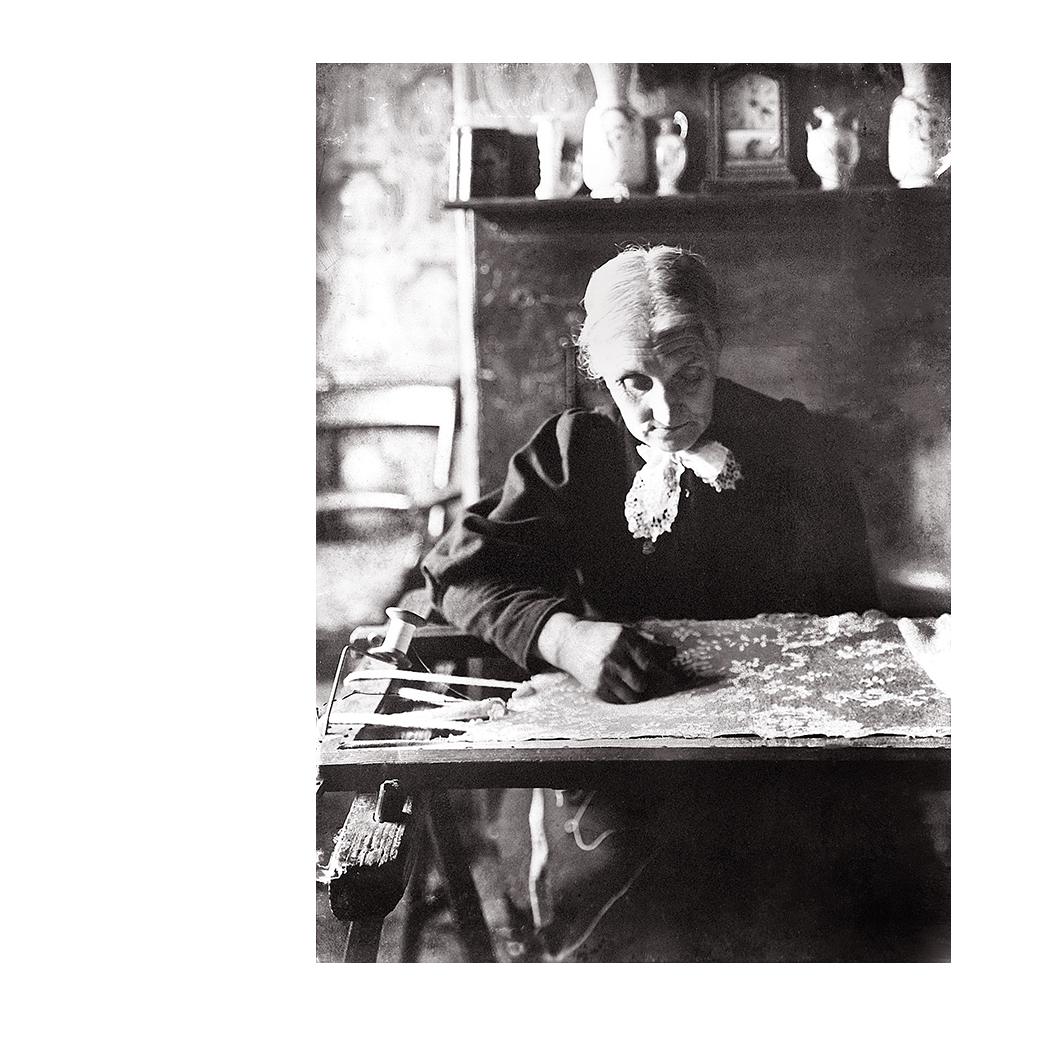 About 1820 an émigré, called Drago arrived in Coggeshall and brought with him the art of making Tambour Lace. Drago was probably Belgian rather than French and given his craft, was probably from the Brussels district, perhaps Lier where tambour lace was made. Drago's stay in Coggeshall seems to have been a short one but while here he lodged with a Thomas Johnson and he and his daughters acquired the new skill. Later two of Johnson's sisters married James and William Spurge who were also lace-makers and the two business combined and set up in the Great House in Church Street. Now divided into three houses, the easternmost one is known as 'Saunders' after the clothier who built it in the 15th century.
There they began to teach the women and children a method of decorating net by using a tambour hook. Thus began the making of Coggeshall Lace (sometimes called tambour lace). Tambouring produces a line of chain stitches and originated in the Far East, where the workers used a round frame resembling a tambourine or drum. This they could grip between the knees, thereby releasing both hands for tambouring. Coggeshall workers used a rectangular rather than a circular frame and this type is still used today.
Making Coggeshall Tambour Lace

Throughout the 19th century this tamboured net lace was made in the tambour rooms and cottages of Coggeshall and  the surrounding villages. In 1841 there were 247 tambour workers in Essex most living around Coggeshall.
Lace manufacturers and lace dealers co-ordinated these workers by obtaining orders from London and elsewhere. More sophisticated designs were sometimes introduced and these would be tamboured by the more proficient workers. Besides the designs, all the necessary net and threads would also be distributed to the lace workers.
In 1851 the trade was booming with 382 lace-makers recorded but then the decline began and ten years later in 1861 only 84 lace-makers were in the district.
Tilkey became something of a specialist district with seven ladies working as 'tambour cap makers' and one of them also a 'lace pearler', sewing on a pearl edging  to the cap or bonnet.
Tambour rooms, originally built for teaching the new craft, became obsolete as mothers working from home passed on their skills to their daughters and the last tambour room, owned by William Spurge, closed in 1862-63.
The fluctuations in prosperity of the tambour lace-makers were governed by several factors. Fashion requiring flounces and frills gave great encouragement but the invention of chain stitch sewing machines and of machine made laces imitating the hand made article, together with a deterioration in the quality of design meant hard times for the lace-workers.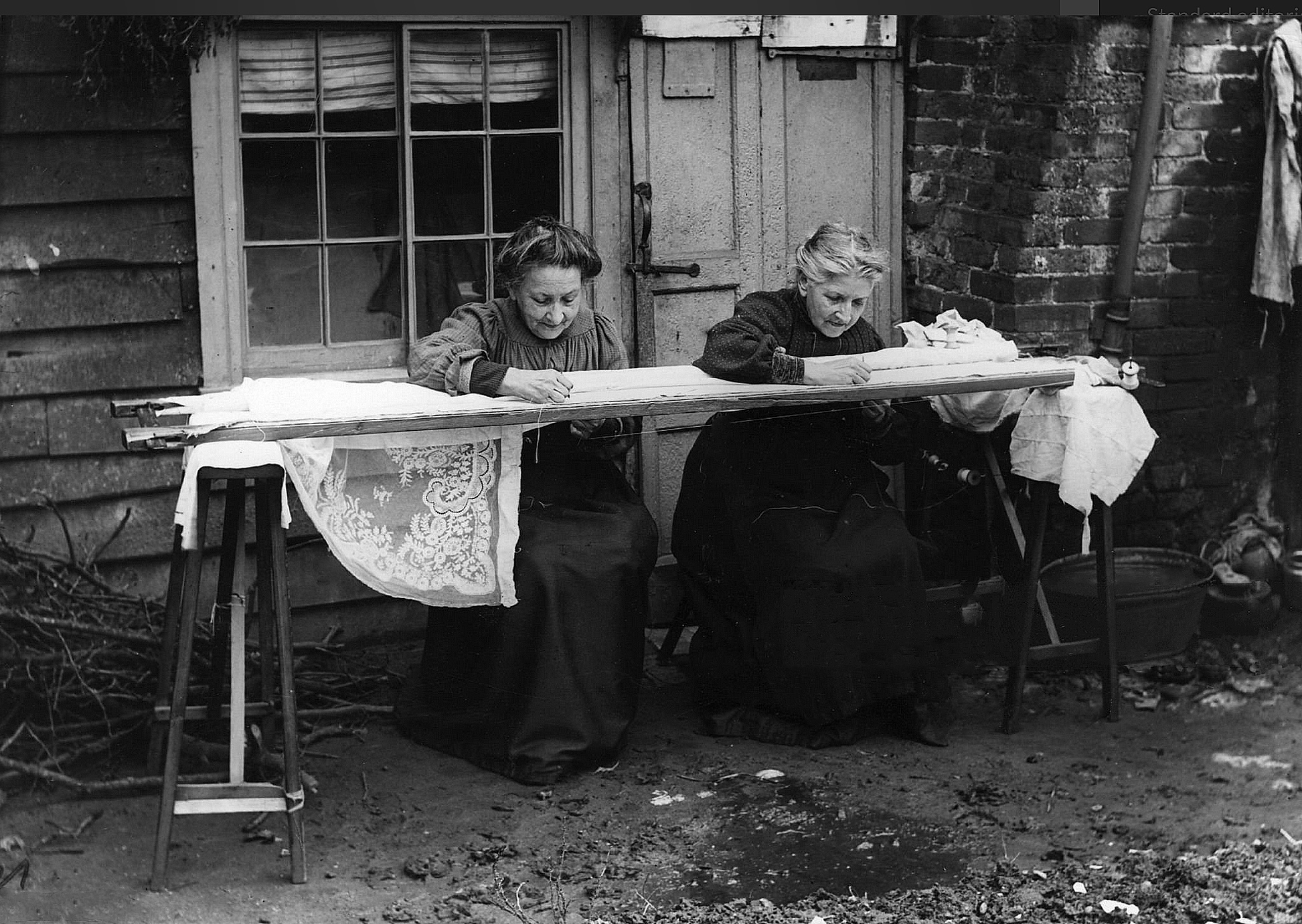 Coggeshall Tambour Lacemakers at work. It was probably too dark inside for a photograph.
There was a revival in lace-making in Essex in 1866 leading to another peak of 449 workers in 1871 before declining again to just 149 in 1901.
The activities of two ladies, Annie and Alice and their brother Charles, children of William Spurge saw a great improvement in the quality of Coggeshall Lace in around 1900 which saw a doubling of trade. William was an art teacher who improved the general standard of design and also introduced some old Italian designs. The First World War then brought lace-making to a halt.
Although 'Coggeshall Lace' is now well known the name did not appear until 1910 and before then the generic name of 'Essex Lace' was used. It has been suggested if the lace had been promoted from the start as 'Coggeshall Lace' it would have enjoyed greater commercial success. A comparison has been made to 'Limerick Lace' which thrived even though the lace made in Coggeshall was at least an equal in quality and preceded it in manufacture.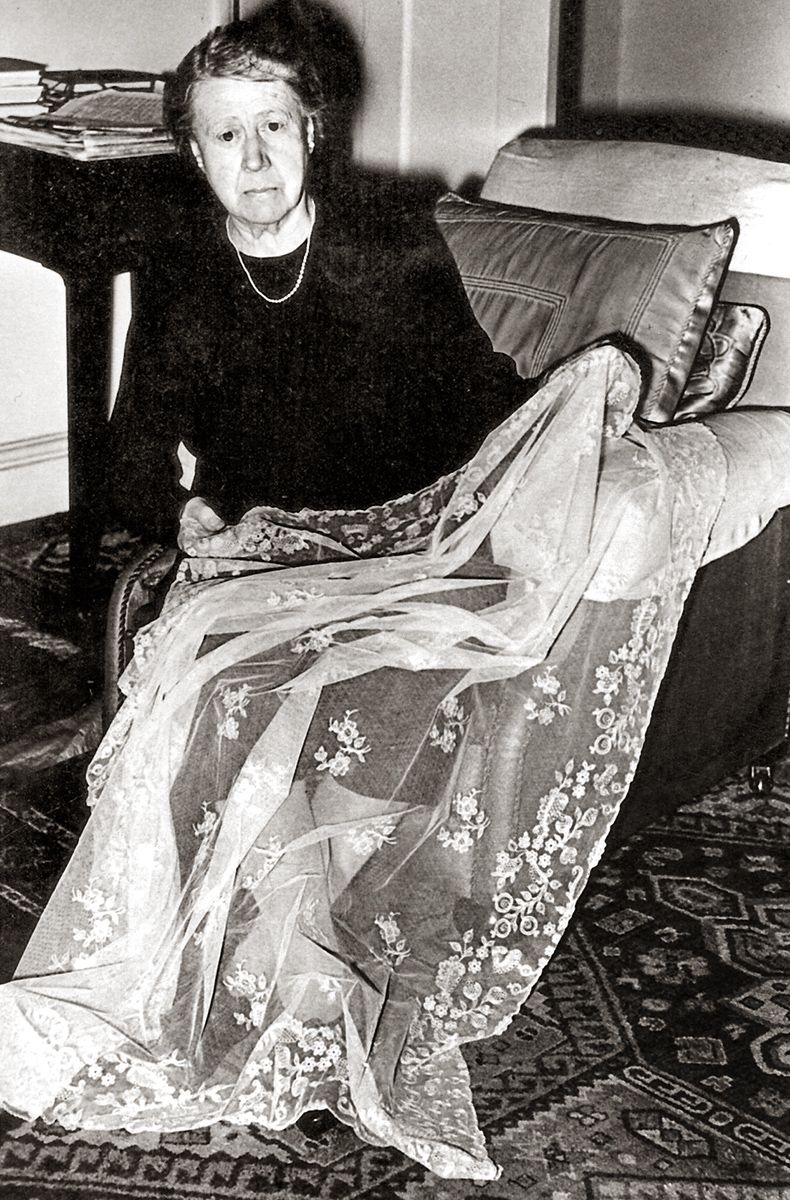 Html Mid Grey background ignore this text it is just to increase the picture size
ignore this text it is just to increase the picture size
ignore this text it is just to increase the picture size

In the 1930's a determined effort was made to revive the making of Coggeshall Lace, and three handkerchiefs were given to Princess Marina on her marriage (See below). Coggeshall Lace was made into dresses for the Queen, Princess Margaret and Princess Alexandra. This work was undertaken by three very proficient workers in Great Tey. Queen Mary also chose two lace dresses and a teacloth in Coggeshall Lace. It was hoped that this Royal Patronage would encourage a revival of the craft. However the financial return was too meagre and after the Second World War both net and threads disappeared. Today Coggeshall lace is made by some members of the Lacemakers Guild and is taught as part of the City and Guilds course.

Html Mid Grey background ignore this text it is just to increase the picture size
ignore this text it is just to increase the picture size

 Much of this information is from the work of the late Jean Dudding whose book on Coggeshall Lace is in the museum.
The photo shows the redoubtable Miss Edith Mary Surridge holding a wedding veil of Coggeshall lace.
The eldest daughter of J.S. Surridge who lived in The Mount in East Street, she was responsible along with Mrs Hill of Holfield Grange and other ladies for the revival of the making of Coggeshall lace in the 1930s.

Html Mid Grey background ignore this text it is just to increase the picture size
ignore this text it is just to increase the picture size
ignore this text it is just to increase the picture size
ignore this text it is just to increase the picture size

There is a good collection of Coggeshall (tambour) lace in the museum. Pieces range from simple samples to a magnificent 19th century wedding veil. The display also includes a piece of unfinished tambour lace still on its wooden frame, lace-making tools and patterns used to mark out the designs.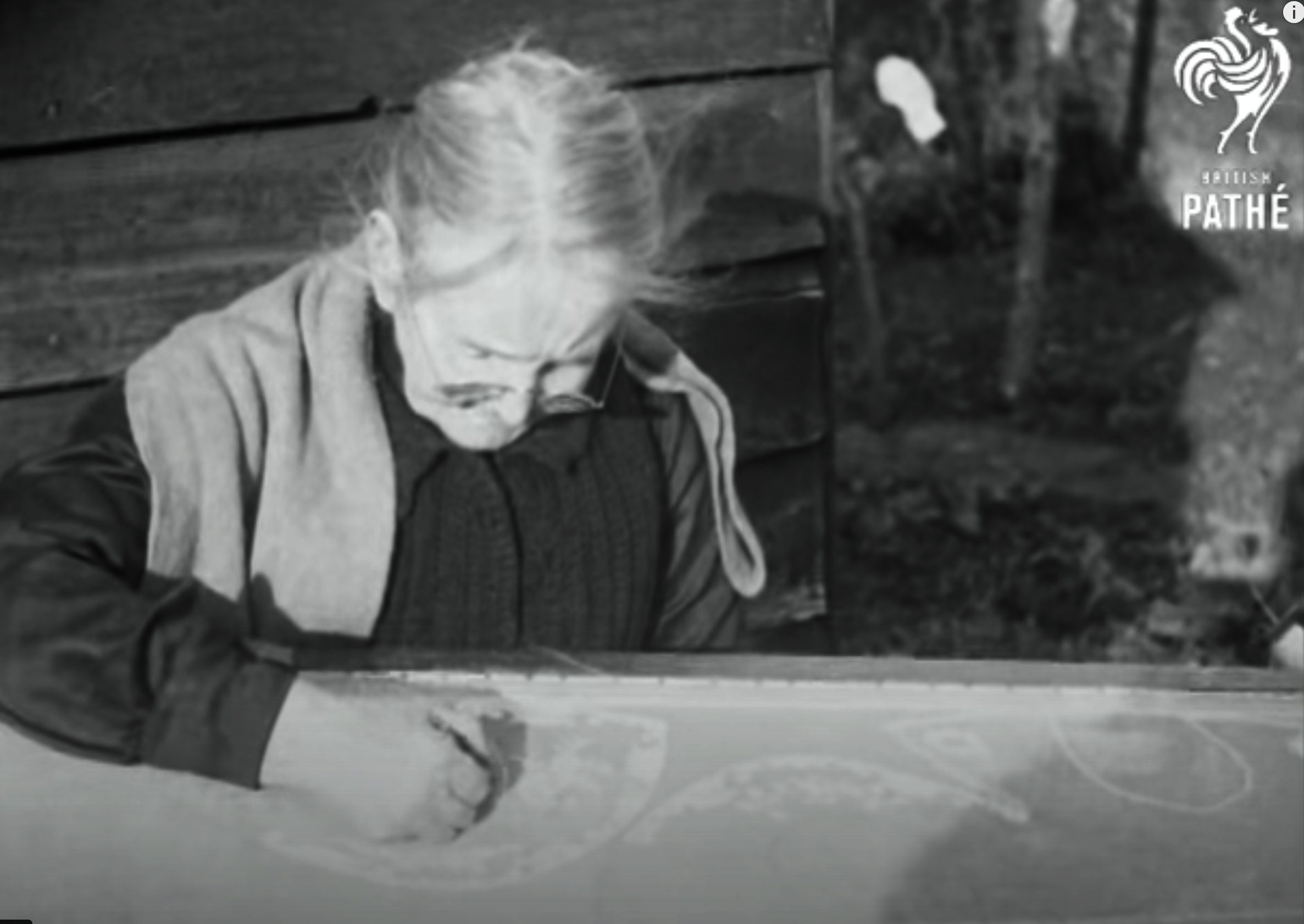 Click below to see a fascinating British Pathé film showing lacemaking in Coggeshall, probably from the 1930s.
There are no details as to who the lady was or where in Coggeshall it was filmed.