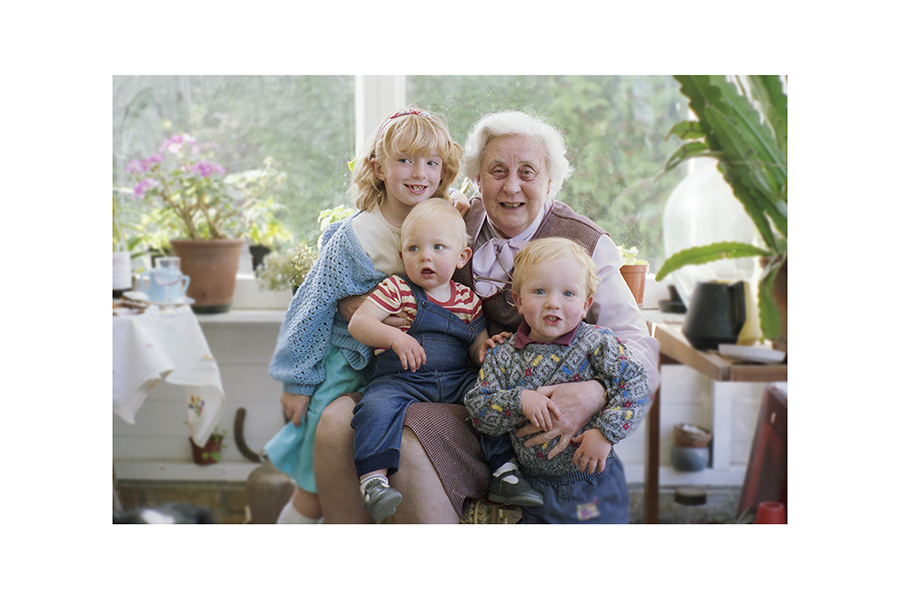 Phyllis Wood MBE 1918-2006
Phyllis was single-minded, direct, always knew what she wanted to achieve and had a very strong sense of duty.
She never really lost her edge. Just a couple of days before she died I visited her – I asked her how she was – she said, 'not bad' and then seemed to go back to sleep. I sat and held her hand thinking she might at least know someone was there with her. After about 15 minutes she reopened her eyes and said, 'you might as well go home….you're not doing any good here.'
Phyllis was born into a different world in an isolated house on the edge Coggeshall called the Pest house which was 'up Tilkey'. Her father had been a soldier in the Great War and her Grandfather had been shepherd on the Markshall Estate. Granny lived next door. One of ten children and the oldest girl, she became a second mother to her brothers and sisters and had a sense of responsibility towards them that she never lost.
As they grew up, married and had children of their own so Phyl seemed to gather them all in and watch over and care for them all. She kept in touch by regular visits – something like a royal progress round the family.
She started work, as did many young women then, at the 'Stitching Factory' which was at the time busy making uniforms. She also  joined the ARP (Air Raid Precautions) and meticulously recorded all the air raid warnings in an exercise book.  She was was on duty at her first aid post by the Mount on the night the church was bombed but although some soldiers on duty on top of the tower were blown off their feet by the blast, miraculously there were no -one was seriously injured.
As soon as she could she joined the Army. This suited her exactly, being bossy she liked to tell everyone what to do. The army taught her how to drive, although she never passed a driving test, and was a somewhat idiosyncratic driver. She was making steady progress up the ranks and was about to be promoted Sergeant – when she was struck down with TB. Several of the family caught this foul disease and her older brother Douglas, died from it. She spent the best part of two years in Notley Hospital and had the worst affected parts of her lung removed but she survived. So instead of achieving high rank in the army she was invalided out.
She had various jobs over the years. She looked after the Nurses' Accomodation in Colchester and Black Notley and later managed the Retirement home at Stisted Hall. It was on the way to Notley one day that she had the front of her car, an old white Mercedes, kicked in by a horse which was probably the only damage on it that she didn't cause herself.
She worked for many years in the family business, a general stores called Weinrich.  She used to give away the profits in the form of free fruit and vegetables to anyone she thought deserving – to the despair of everyone else in the shop who were just trying to make a living.
Much later, she used to help us look after our shop at Market End – we sold pictures, framing and artists materials. In the mornings she would hold court there and in the afternoons she would have a snooze in the chair – people used to wake her if they felt like paying for something. It was quite a local feature.
She was very well travelled in the days before jets and mass tourism. She loved Greece and Italy, especially Sicily and climbed Mt Etna (and Mt Vesuvius) and brought me a piece of rock back from the top of each. In the 1970s she flew to Australia with her mother, then in her 80s, to visit her youngest brother Bernard.
But her heart and the centre of her world was always in Coggeshall. She served for many years on the Parish and District Councils – and was both Chairman of the Planning Committee and Chairman of the Parish Council. She was instrumental in securing the land where the Doctors surgery now stands. She also came up with the idea of a Community Bus, probably the first such bus in Essex and she even drove it a few times in those early years.
She successfully campaigned against what was called the inner relief road – a plan to divert the A120 (before the bypass was built) between the river and the houses of West Street and East Street. She was chairman of the council when a huge housing estate was planned for Highfields and chaired a packed meeting at Honywood School with the developers where you almost felt sorry for them. In any event the plan was never heard of again – up to now anyway.
One of her most lasting and important achievements was in saving the Grange Barn. She was absolutely indomitable in her efforts to save it – and would simply never give up despite setbacks and impossible odds. The Grange Barn Committee had several remarkable people on it but without Phyllis, I don't think the barn would have been saved. It was an amazing achievement.
She was also a great advocate of the Workers Education Association – which she organised and supported for many years. Her great friend, historian and classical scholar Arthur Brown, often played a key part as a lecturer.
Phyllis took a leading role in sorting out and defining Coggeshall's footpaths when they were first mapped and turned into rights of way. In order to keep these open, the paths had to be walked and this is when the famous footpath walks began, Brian Tebbutt, Doug Judd and her brother, Ron Wood, were usually involved at the sharp end, clearing the way. Although she was never keen on walking anywhere herself, she always provided refreshments at the half way point and I know a lot of people will remember her tea and biscuits served from an urn in the back of her car.
She started and organised the first Tourist Information Centre for Coggeshall which was then in the clock tower and when the Heritage Centre opened she was among the first in the rota of volunteers.
She also brought Street Parties back to the town –  to celebrate the Town clock's 100th birthday in 1988, and for the Queens Jubilee in 2002 – that I am sure many will remember. She was a trustee of the Coggeshall Amalgamated Charities for many years and a Governor of the Primary School.
She was a founder member of the Coggeshall Old Peoples Welfare in the 1950's. This provided a Day Centre once a week where people could meet and have a meal – and in the summer months there were coach tours complete with cream teas or fish and chips. Phyllis organised, and with the helpers, ran this for the best part of 50 years.
She also ran the visiting Library service – taking books out to the housebound every week. Both Coggeshall Old Peoples Welfare and the Library service are still going great guns – thanks to another generation of volunteers.
In 1995 Phyllis was awarded the MBE for her community work in Coggeshall. She was always a great royalist and was absolutely delighted to meet the queen and proud as punch about the award. Phyllis had a very full life and left us a great example not just of working for the community but of a great spirit, of getting on with things, trusting people to do their best and not being discouraged by setbacks. For those who had the privilege of knowing she will continue to be a part of our daily lives.
Trevor Disley March 2006