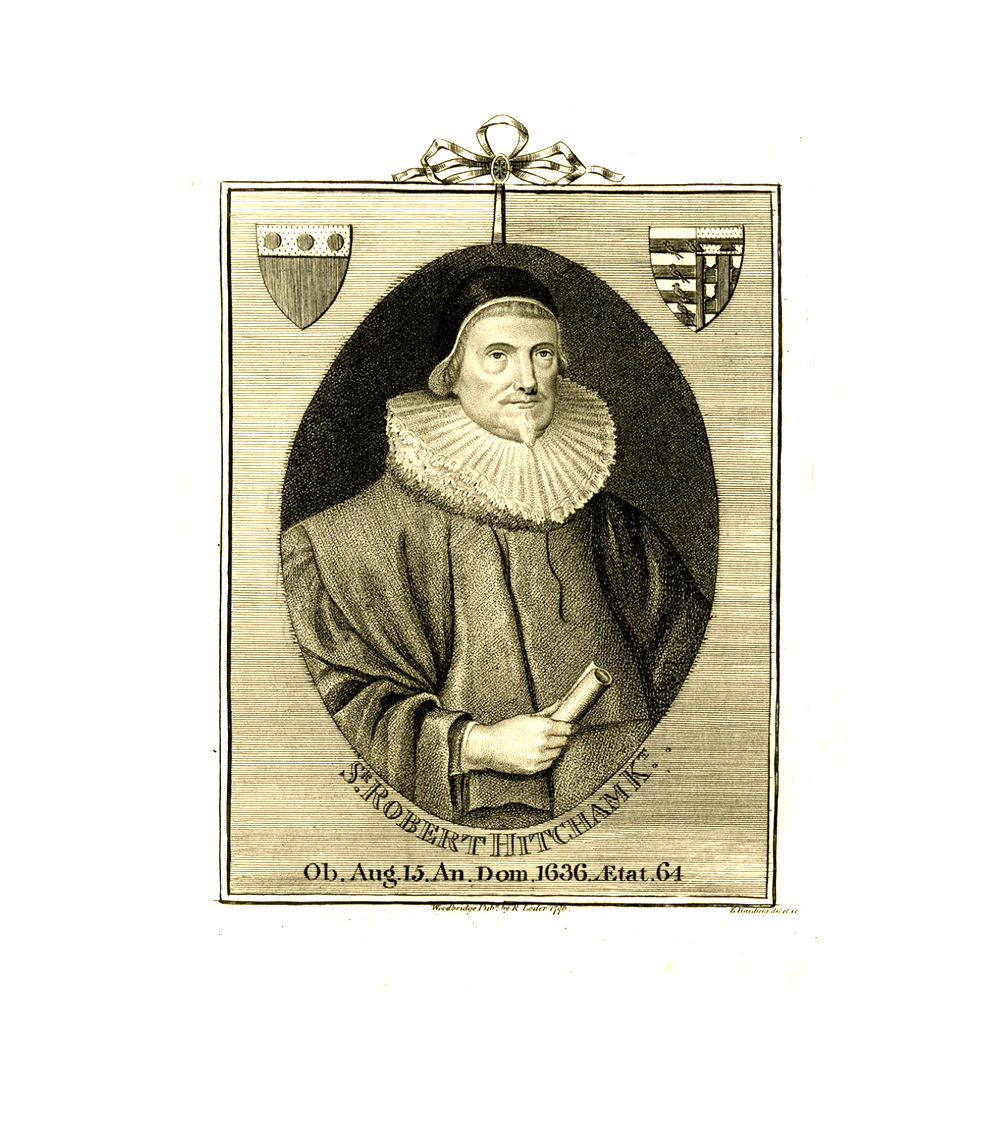 Sir Robert Hitcham was born in 1572 of humble stock at Levington in Suffolk. His father and grandfather had a business cutting and selling heather which was used for the making of brooms.
He commenced his education at the Free School in Ipswich and later became a student at Pembroke College, Cambridge. He was a man of intelligence and a good orator and entered Gray's Inn to study law, in which he was eventually destined for high office.
In 1596 he became the elected member for West Looe and by 1603 had been appointed as Attorney-General to Queen Anne of Denmark, the consort of King James I.
At the beginning of 1616 a knighthood was conferred upon him to coincide with his appointment as King James' senior Sergeant-at-Law and he acted as Judge of Assize on several occasions. In 1623 he was elected MP for Orford, near Woodbridge a position he held until 1628.
In 1635 he bought Framlingham castle with its lands for £14,000 and conscious of his good fortune, settled the title of the estate upon Pembroke College for charitable uses. Sir Robert died on 15th August 1636 and is buried in a magnificent tomb in Framlingham church.
His will stipulated that several houses for the poor should be set up in Framlingham, Debenham (both in Suffolk) and in Coggeshall to help them into work and that a school should be built at Framlingham to teach forty or more of the poorest and neediest children of those three towns to 'read, write and cast accounts' and that £10 should be given to each scholar to secure an apprenticeship. One might ask why a Suffolk man should help the children of a small Essex town, but it appears that Sir Robert was very friendly with the Guyon family who were wealthy wool-merchants in Coggeshall and it was whilst visiting the Guyons that Hitcham was moved by the desperate poverty of the town.
It proved to be very difficult for the children of Coggeshall to take advantage of the opportunities offered under the terms of Sir Robert's will, so in 1722 the Trustees at Pembroke looked again at the will and decided that Coggeshall should have its own school along with money from the trust for apprenticeships, and so a school was started in a room in a building on the Market Hill. In 1787 a room was leased in Crane's House and Henry Emery was appointed as school master, a post he was to hold for 49 years.
In 1858 the school in West Street was built opposite Paycocke House on glebe land purchased for the sum of £100 and was opened in June 1859. This money enabled the Vicar to purchase St. Nicholas' chapel, the derelict gate-house of the long-destroyed Cistercian abbey. It closed around the time of the Great War. The building is still there and the exterior has recently been restored.
This foundation continues it's work today as the 'Sir Robert Hitcham's Exhibition Foundation' and awards grants 'to people under 25 living in Coggeshall who have left school and are going on to higher education or training.'
For inquiries or an application form for a grant please get in touch with Nic Johnson, Secretary of the Sir Robert Hitcham Exhibition Foundation, e-mail; [email protected]