By its very name, the Woolpack is inextricably linked with Coggeshall's former industrial prominence as a wool town. The wool and cloth industry was made possible by the establishment of a Cistercian abbey in the town in 1140, the monks from the abbey being extensively sheep farmers. The Woolpack was built in the 15th century and although its original owner is not known, it is likely that this large and fine timber-framed building once belonged to one of Coggeshall's rich merchants.
In 1665 the Rev Thomas Lowery was ejected from the Church of England after the Reformation and purchased the property, using it as a chapel from where he ministered to non-conformists. He died in 1681 and the house passed to his son Jeremy, a London apothecary. On his death in 1708, the house was sold, and in that year became an inn known as the Woolpack.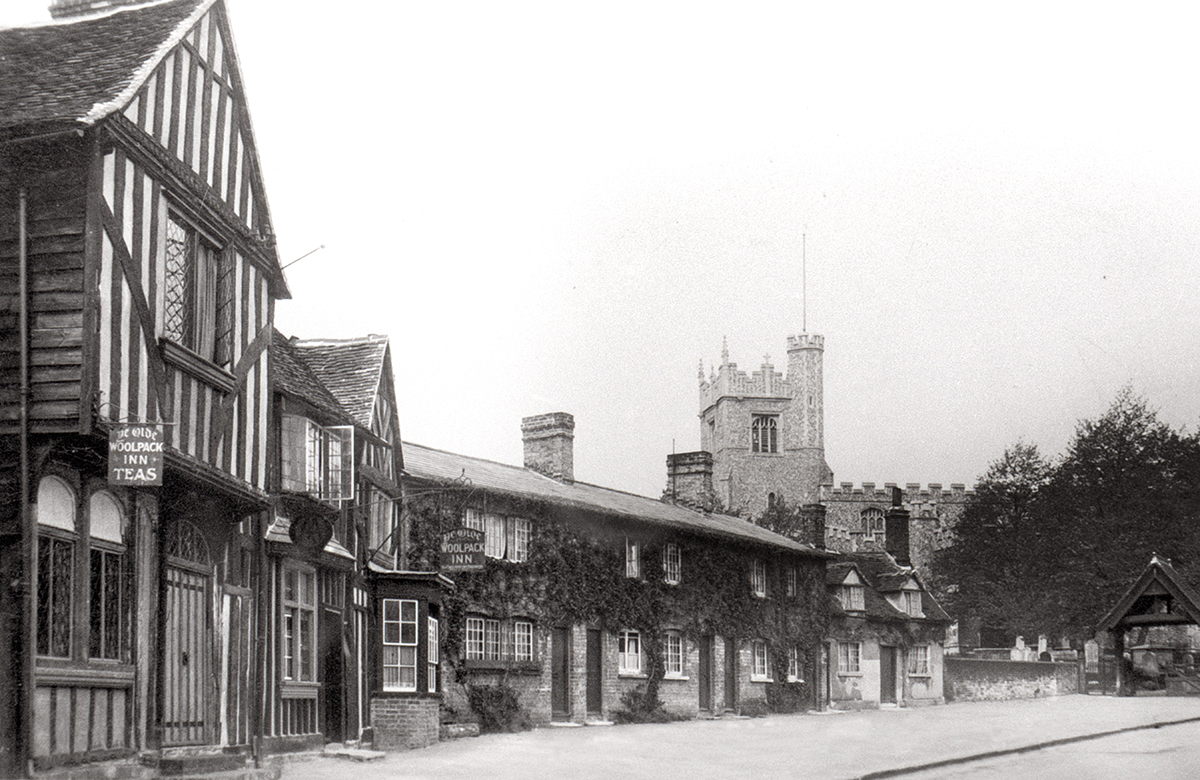 The hovel which Dick Nunn demolished stood between the last cottage and the lych-gate
It is worth reflecting that the Woolpack was standing here next to the parish church of St. Peter ad-Vincula before America was discovered, and from within its rooms past patrons may have talked about Nelson's victory at Trafalgar, the conflicts at Waterloo and Balaclava, discussed the latest novels by Dickens or chatted excitedly about the latest invention.
The Inn is now a Grade 1 listed building and has therefore undergone very few changes in recent years. The building still has tremendous character with its beams and low ceilings and traditional warmth supplied by numerous open fireplaces, thus creating a wonderful atmosphere. It is reputed to be haunted by a lady in a grey habit and various landlords have claimed to have seen her.
Up to the late 1930s there was a row of cottages next to the pub which were then demolished to make way for the carpark. In 1888 there was a dilapidated cottage which stood right next to the church wall. It was in such a poor state that a local blacksmith and champion of the working man, Henry "Dick" Nunn, pulled it down declaring that it was 'an eyesore and an insult to the sacred edifice'.